Fifteen thousand dollars. That's about what a typical 10x10 trade show exhibit booth can cost to design and build.1 That much money could buy a new Ford Fiesta.2 It's more per square foot than the median cost of housing in most American cities.3
Good thing you don't have to pay so much. Two Parts LLC, a company that makes light fixtures, won an Exhibitor magazine design award after spending less than $12 per square foot — only $680 — on its 2016 booth.
Your costs may not fall so low, but you can still get a handsome booth without going broke. Add a few well-chosen accessories, and you can have an exhibit that outshines your competitors but costs much less than a custom-designed, specially built structure. Below are some tips to help you choose, decorate, and get a good deal on a low-cost booth.4
1. Booth options
Rentals
Renting a booth can provide great value if you're just dipping a toe into exhibiting.
If you exhibit at only one or two shows per year, renting a booth each time will probably cost less than buying one.
Renting lets you experiment with a different booth each time you exhibit — a great benefit if you're new at exhibiting and you don't know what type of booth would suit you best.
Renting means returning the booth to its owner after each trade show, so you won't have to pay to store it between shows.
To make sure that your rental will work for you, try setting the booth up and re-packing it before you take it away. (This advice also applies to any other type of booth.) If you have a hard time building the booth and putting it back into its containers at the seller's showroom, you'll probably have a hard time at a show.
If you exhibit at a lot of shows, the cost of renting a booth every time will add up to more than buying a booth that you can use and re-use. If that's your situation, take a look at some of the options below.
Used booths
A used booth gives you the strengths of owning a booth — for instance, you can re-use it at show after show — at roughly half the price.5 This booth can be a great deal.
But you never know what the previous owner has done with it. Inspect the booth for scratches, wear, and other cosmetic problems before you buy. Keep an eye out for structural trouble, too. A used booth may come without accessories such as shelves or lights. Or it may have accessories that the last owner installed. If you want to customize the booth and its accessories for your needs, ask the company selling the booth if it can change them to your specifications and what it would charge for the job.
A quick Google search will yield dozens of companies that sell used booths. You can also find a used booth via sites such as ExhibitTrader.
Modular exhibits
Traditional trade-show booths are little rooms or buildings, often with a rigid layout and permanent fixtures. But a modular exhibit is more like a set of LEGO pieces. You can rearrange its components, a useful feature if you need to expand or reduce the display from show to show. You can also rearrange or swap out a modular booth's lights, signs, shelves, video monitors, and other accessories.
Modular displays cost less than traditional booths. They also weigh less, because they have lightweight frames. And they pack up into a smaller space, so they're easier and cheaper to ship. And that's important, because shipping a booth can cost you nearly as much as building it, especially if you exhibit at several shows per year.6
Pop-up displays
A typical pop-up display is a collapsible metal framework of crisscrossing struts that expands until it fills the back wall of an exhibit space. You can cover the framework in flexible panels that can display products, logos, happy customers, or other images. You can also insert lights and other accessories into a pop-up, and the case in which you ship the display can double as a pedestal or counter.
Like modular exhibits, pop-ups are lightweight and inexpensive. They can even reduce labor costs. Assembling a traditional booth may require a team and take hours, but a single person can set up a pop-up display in under 15 minutes.
2. Accessories
Banners
A large, eye-catching banner can add color and style to an unremarkable booth. Banners can even replace or become a booth: Three banner stands (tall pull-up banners) standing side by side can cover the back wall of a 10x10 booth space nearly as well as a pop-up display.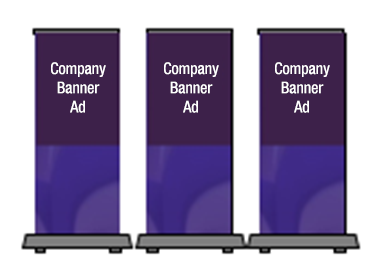 A banner should be easy for attendees to read even when they're far across the exhibit hall, on the move, and surrounded by other displays. A simple, arresting design with very few elements will work best. If your banner displays more than your logo, a vivid photo, and a slogan or URL, consider simplifying it.
To keep the slogan as readable as possible, write it as you'd write anything else: as a mix of capital and lowercase letters. The mix is easier to read than a slogan that's all lower-case letters or all capitals.7
In addition, a banner with a lot of open, empty space is more readable than one that's stuffed with details. To avoid creating a chaotic, confusing appearance, put some air around your words and images.
Table covers
Many shows give each exhibit at least one table, which may have a plain, white cover or no cover at all. Whether the show gives you a table or you bring your own, a colorful cover can help your table stand out from other exhibitors' displays.
You can order a tablecloth custom-printed with your logo for less than $100 on Etsy and other sites. A nylon or spandex cover, which can stretch over the table rather simply hang like a tablecloth, will demand a higher price but provide a smoother, more streamlined appearance.
Electronic screens
A computer monitor or video screen can help to make a booth — especially an older booth — look sleek and modern. If the screen plays videos promoting your products, it can attract visitors to your booth and help you sell your merchandise.
Flooring
A booth with its own flooring often looks more polished, professional, and prosperous than a booth without. And if your flooring is comfortable, attendees will probably stay in your booth longer than if you make them stand on the hard, cold concrete of many exhibit halls.
3. Cost-saving tactics
Start early
If you begin planning your new booth several months before a trade show, you can avoid rush charges and other expenses. You'll also give yourself time to sift through a range of booths, compare prices, determine which accessories work best for you, and ask booth vendors to redo anything that doesn't suit you.
Negotiate
Asking a booth seller for a discount can reduce your costs, especially if you can offer something in return. For instance, the company might lower its price if you can pay in full up front rather than in installments over time.
Conclusion
You can create a jewel box of a booth without a big cash investment, and your visitors will never detect how little you paid. They'll see a rich-looking display that radiates professionalism — a booth that may even outshine the costlier booths standing all around it.